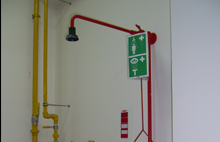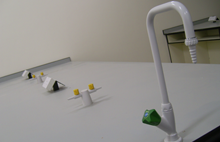 Showers, safety fittings, lab fittings, water fittings, gas fittings, fume cupboard fittings, sinks, peg boards, suction arm, trolleys and trays, gas manifolds and outlets, laboratory gas line fittings, detectors etc..
TFI's Total Lab fittinx division uses high quality range of laboratory fittings like emergency eye wash, emergency shower, gas fittings& accessories etc, to meet the requirements of different types of labs.
We strive to give the most economical and quality product that is suited to provide a safe environment for users in industries, R&D labs, schools, colleges & universities. Our fume cupboard accessories are manufactured by leading companies.
Control and regulation accessories for water, gases and air are an integral part of the laboratory furniture. The type of fitting is selected to match the type of service, construction of work bench, space availability & client requirements.
TFI offers a wide range of safety devices for gas installations such as gas sensors, solenoid valves, gas manifolds etc.
TFI has a wide range of sinks, bottle traps and accessories to suit your needs & make it compatible with modern laboratories.